Repair Apple Watch, the sound error
4 WAYS TO REDUCE IPHONE'S DIFFERENT BATTERY DRAINING
Authentic and Affordable Replacement Trackpad for MacBook Pro , Air, and Retina 13″- Book Now !
During usage, many users may encounter issues with the sound on their Apple Watch, such as loss of sound. However, this is not a major issue and can be easily resolved. So what should you do when your Apple Watch doesn't ring or can't make calls? Let's find out the causes of sound problems on your Apple Watch and the quick and effective ways to fix them with KFS Service in the following article.
Common sound issues that Apple Watch often encounters
In addition to being known as a smartwatch, the Apple Watch also serves to facilitate users in making and receiving calls on their iPhone at any time. However, in some cases, sound issues on the Apple Watch prevent users from making or receiving calls normally. Here are some common sound issues that the Apple Watch often encounters, let's find out the details with KFS Service.
Apple Watch doesn't ring for incoming calls
Your Apple Watch not ringing for incoming calls is a common issue that many Apple Watch users encounter. If not addressed promptly, it can cause unnecessary inconvenience. The main cause of the sound being turned off for incoming calls on the Apple Watch may be due to the user accidentally pressing the mute button on the watch. Therefore, if you encounter this problem, the first thing you need to do is to check if the mute button on the watch is turned on or off.
Apple Watch can't make calls
For this issue, you can still hear the sound of the incoming call, but the person on the other end cannot hear what you're saying and vice versa. At this point, you will need to check if your watch's microphone or speaker is faulty. What you need to do now is to carefully investigate the cause of why your Apple Watch is experiencing this problem to find an effective and quick solution.
Quick and effective ways to fix sound issues on Apple Watch
After a long period of use, Apple Watch may encounter various problems, especially sound issues. When your watch experiences sound problems, there may be situations such as not hearing incoming call rings or not being able to hear during a call. If you notice similar issues with your Apple Watch, try these quick fixes below.
Repair Apple Watch, the sound error
Clean your Apple Watch
The first thing you should do when experiencing sound issues is to clean your smartwatch to help troubleshoot the sound problem. It is best to regularly clean your Apple Watch to prevent this issue. You can clean it at home or take it to the nearest KFS Service center to have their staff assist with cleaning the device.
Restart your Apple Watch
Sometimes, your Apple Watch may experience sound issues due to glitches during usage, causing inconvenience. At this point, restarting the device is one of the simplest methods that Apple fans often use. You just need to turn off the device by holding down the side button and digital crown for at least 10 seconds, slide to power off, and wait a few minutes to restart the device.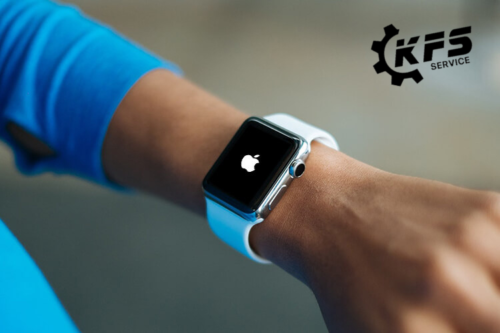 Visit reputable service centers to fix sound issues on your Apple Watch
If your Apple Watch still cannot fix the sound issue after trying the above two methods, you should bring the device to a reputable repair center like KFS Service to have technicians quickly check and fix the sound problem. When you arrive at the center, you will be guaranteed the device repair process, advised on repair costs, as well as other related issues with your device by staff. To receive support and care, you can contact us by directly chatting on our fan page, Zalo, or calling the KFS Service hotline.
KFS Service – Specializing in repairing Macbooks, iPhones, iPads, Apple Watches, and all types of laptops.
– Branch 1: 05B Pho Quang, Ward 2, Tan Binh District.
– Branch 2: No. 02 Dong Nai Street, Ward 2, Tan Binh District, Ho Chi Minh City.
– Branch 3: 104 Nguyen Van Thuong (D1), Ward 25, Binh Thanh District, Ho Chi Minh City.
Working hours: Monday to Sunday (8:00 AM – 8:00 PM).
Hotline: 0708 963 966 – 0903 963 966